Polytetrafluoroethylene (PTFE) is a polymer that possesses abrasion resistance as well as corrosion resistance. PTFE-coated bolts and nuts are made from several materials. Machine screws and other types of fasteners coated with PTFE may be used to ensure that they will not rust in an environment prone to corrosion. This can be accomplished by using PTFE to coat the fasteners made of materials susceptible to corrosion.
A consumer called us regarding multicolored bolts they found on a work site. The client characterized the bolts as a standard steel-grade nut-and-bolt combination that was dark blue and smooth. The ASTM A193 Gr B8M PTFE Bolt's identification impressed us. We put up this post to give insights on PTFE hardware after seeing how flexible PTFE material is in fastener applications and being reminded by calls from customers that they are still not generally known in the market.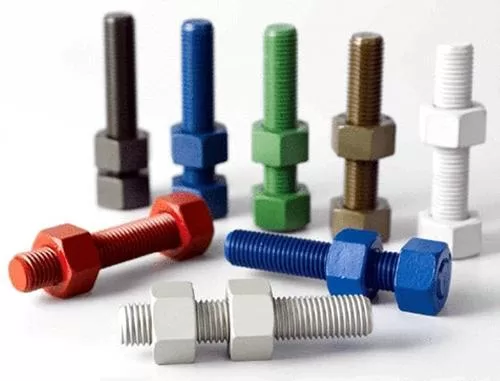 PTFE Properties
PTFE substance is likely already familiar to you, even if you are unaware. If you check your kitchen cabinets, we're sure you'll discover anything with the word "Teflon" on it. Teflon is a trademarked term for a PTFE substance, frequently seen on cookware as a nonstick coating. Non-branded comparable PTFE is as prevalent in industrial and construction environments as Teflon coating is in cooking, baking, and food-prep equipment.
PTFE – polytetrafluoroethylene is a synthetic fluoropolymer. In English, PTFE is a manufactured plastic comprising fluorine and carbon components created at high temperatures and solidified after cooling.
The primary benefits of PTFE are as follows:
Very low surface friction – the substance glides effortlessly and is used as a lubricant in a variety of applications.
The surface is nonstick, making it easy to clean and resistant to contamination.
Chemical resistance entails being resistant to a wide range of solvents and chemicals.
Hydrophobic – resists water and moisture absorption (0.1% in 24 hours).
Temperature stable – useable between -350F and 500F, melting point more than 600*F
High flexibility -flexible even at subzero temperatures
Electrically Resistant – Commonly used as an insulator.
PTFE is difficult to beat in terms of comprehensive application, stability, and flexibility due to its numerous valuable qualities. That being stated, there are a few factors to consider when selecting a contractor for any project:
Low tensile strength:PTFE is a distorted plastic, and its tensile strength is just 3,000 PSI (compared to a minimum of 75,000 PSI for A193 steel).
Flowable – Because PTFE is not elastomeric, it does not keep form naturally and is prone to 'creep.'
Polymeric toxicity:Most polymers emit fumes and have elemental chemical reactions when employed outside their permissible heat range. (PTFE is very recyclable, therefore, always recycle it instead of incinerating it for disposal).
Selection and Application
The uses for PTFE are numerous and diverse. After careful analysis, we may discover several projects in which it overcomes more typical materials picked out of habit.
The first step in selecting a PTFE hardware solution is to spell exactly what you want from your providers. In any case, you're looking for a PTFE substance. Multiple businesses have many trademarks and brand names for PTFE materials – Teflon, Syncolon, and Gore-Tex, to mention a few – which might lead to misunderstanding about what is being asked. Stick to the phrase 'PTFE' for your specs to simplify things.
There are various defining standard PTFE standards for general uses.
In specific applications, PTFE material hardware is commonly used:
Electrical Assemblies and Semiconductors
Static-sensitive and clean-room equipment
Food-grade, FDA-approved pharmaceutical, and food production
Consumer devices and electronics are examples of low-power initiatives.
Examples of high-temperature uses are automotive, food preparation, powder coating, and testing conditions.
Equipment and locations for chemical processing
Standard commercial construction components are hangers, signs, trim, and fixture hardware.
For any other wet environment projects such as marine, outdoor, and recreational
The primary rule for PTFE material hardware is that it does not need to be structurally strong. Because PTFE is a lightweight plastic, it should not be utilized for applications where strength is essential. PTFE coatings are used where strength is critical.
Steel or stainless steel hardware frequently receives PTFE coatings. The PTFE coating provides low friction, corrosion resistance, and nonstick qualities to the underlying material's strength and flexibility. Some instances are as follows:
PTFE Coated Steel Bolts and Nuts – Provides chemical and water resistance, safeguarding the high-strength steel beneath.
PTFE-Coated Hex Nuts Used with Non-Coated Steel Bolts – PTFE-coated nuts are mainly used for nut installation to decrease friction and wear.
PTFE Coated Stainless Steel U Bolts – Adds nonstick and chemical resistance properties to an already robust stainless steel material utilized in advanced sanitary applications where coating failure will only reveal the stainless steel rather than standard steel, which will rust or corrode.
Medical and emergency response devices, for example, have anti-bacterial uses.
Applications that withstand extreme weather conditions
Electrical projects necessitate the use of non-conductive materials.
Shree Ashapura Steel Centre will assist you in navigating fastener selections that would best match your application and project requirements. Price quotes, availability, lead times, delivery confirmations, and one-of-a-kind application instructions are available via phone or email. Please speak to a Shree Ashapura Steel Centre salesperson today for help and guidance from our highly qualified experts.