PTFE Coated Threaded Rod, PTFE Coated Fasteners, SS 304 PTFE Coated Bolts Suppliers, Stainless Steel 316 PTFE Coated Machine Screw, PTFE Coated Fasteners, PTFE Coated Nuts, PTFE Coated Stud Bolts Bolts at Price in India.
Are you trying to find some fasteners? A coating that can prevent sticking while yet being long-lasting and having outstanding properties? The most effective option that is available to you is to use bolts and nuts that have been coated in PTFE. These coated fasteners, also known as polytetrafluoroethylene, have a fluoropolymer coating that is made from a synthetic substance. They feature a low coefficient of friction, along with a high working temperature, strong abrasion resistance, and chemical resistance.
Teflon-coated fasteners are frequently used when the coating needs to be smooth, moderate, and resist corrosion. An excellent illustration of this may be seen in the food sector or the home appliances industries, both of which need Teflon-coated B7 stud bolts to be used on their non-stick goods. The PTFE coating on these bolts allows them to resist temperatures up to 500 degrees Fahrenheit and is applied in the aspects of the company. Compared to fluoropolymer, PTFE Coated Stud Bolts are more resistant to heat, and the coating on them is roughly one mil thick.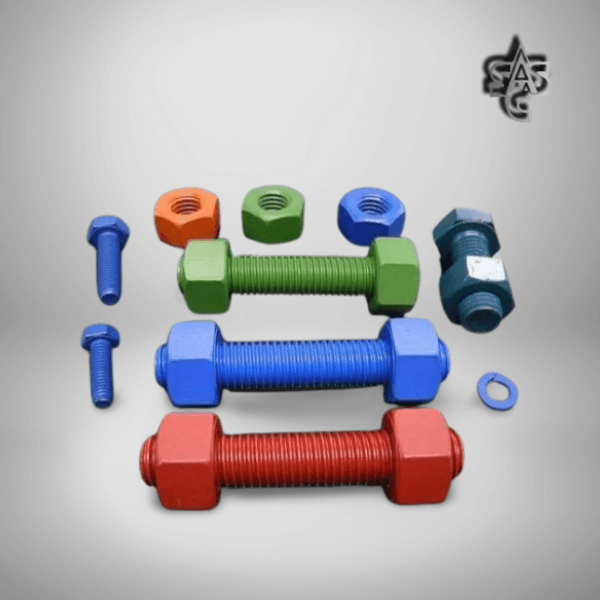 About
PTFE Coated Fasteners
Because of the hydrophobic qualities inherent in PTFE Coated Fasteners, there is a high demand for these fasteners in the food industry and the medical and surgical device sectors. They are resistant to germs thanks to their hydrophobic characteristics.
Powder-coated fasteners are a different kind of coated fastener than the other types. They are electrostatically sprayed onto the bolts and suits using a technique that permanently attaches them to the fasteners once they have been sprayed on. Zinc-coated fasteners are another form of coated fasteners that are available. They can withstand temperatures up to 204 degrees Celsius (400 degrees Fahrenheit) and impart lubricity to the fasteners. On the other hand, Xylan-coated fasteners are favored by coated nut producers worldwide because they can resist temperatures of up to 550 degrees Fahrenheit.
Specification of
PTFE Coated Fasteners
Specifications
IS, ANSI, ASTM DIN, ISO, JIS, GB, ASME, BS, UNI and all International Standards
Threads
BSF, UNF METRIC, UNC, BSW or as required
Standard
M02 to M33ANSI – American National Standards Institute
SS Stud Bolt length are defined in ASME B16.5 standard

ANSI B 28.2.4 1M

ANSI B 18.2.4 2M

ASME B18.5

SS Hex nuts are defined in ASME B18.2.2

DIN: DIN 933, DIN 931, DIN 970, DIN 934

UTS – Unified Thread Standard : UNF, NPT, NPTF, UNS, UNC, UNEF

ISO – International Organization for Standardization ISO 4033, : ISO 4032, JIS standards
Fasteners/ Bolts Size
M10, M4, M16, M36 M2.5, M6, M30, M12, M8, M14, M2, M3, M20, M24, M5 to M160
Length
3 mm to 200 mm
Head drive
Phillips, Slotted, Phillips/Slot, Six-Lobe etc
Test Certificate
as per EN 10204 / 3.1 Manufacturer Test Certificate
Finishing
Zinc white, (yellow, black, blue), black oxide,
Dacroment, Geometry, plated zinc-nickel, anodizing, nickel plated, Stainless steel: Passivated
Self-Colour, Bright Zinc Plated (BZP), Hot Dip Galvanised (HDG), Sherardized, Stainless Steel, some special one like DACROMET and Mechanically Applied coating
raw materials of Source
JSPL, Usha Martin, Tata Steel, Mukund Steel, RINL, Dhamm Steel etc.
Surface Coating



PTFE Coated Fasteners



Packing
IN BULK: pallet, canton, carton / Small Boxs / pallet or customer request
Dimensions Of
PTFE Coated Fasteners
PTFE Coated Bolts Dimensions Chart :

Nominal Size
or Basic
Product
Diameter


Full-Size Body
Diameter,
E
Width Across Flats,
F
Width Across
Corners, G
Head Height, H Basic
Radius of
Fillet, R
Nominal Thread
Length for Bolt
Lengths,
LT
inch
mm
Max
Min
Basic
inch
Max
Min
Max
Min
Basic
inch
Max
Min
Max
Min
6 in. and
Shoter
Over
6 in.
1⁄4
0.25
0.26
0.237
7⁄16
0.438
0.425
0.505
0.484
11⁄64
0.188
0.15
0.03
0.01
0.75
1
5⁄16
0.3125
0.324
0.298
1⁄2
0.5
0.484
0.577
0.552
7⁄32
0.235
0.195
0.03
0.01
0.875
1.125
3⁄8
0.375
0.388
0.36
9⁄16
0.562
0.544
0.65
0.62
1⁄4
0.268
0.226
0.03
0.01
1
1.25
7⁄16
0.4375
0.452
0.421
5⁄8
0.625
0.603
0.722
0.687
19⁄64
0.316
0.272
0.03
0.01
1.125
1.375
1⁄2
0.5
0.515
0.482
3⁄4
0.75
0.725
0.866
0.826
11⁄32
0.364
0.302
0.03
0.01
1.25
1.5
5⁄8
0.625
0.642
0.605
15⁄16
0.938
0.906
1.083
1.033
27⁄64
0.444
0.378
0.06
0.02
1.5
1.75
3⁄4
0.75
0.768
0.729
11⁄8
1.125
1.088
1.299
1.24
1⁄2
0.524
0.455
0.06
0.02
1.75
2
7⁄8
0.875
0.895
0.852
1 5⁄16
1.312
1.269
1.516
1.447
37⁄64
0.604
0.531
0.06
0.02
2
2.25
1
1
1.022
0.976
1 1⁄2
1.5
1.45
1.732
1.653
43⁄64
0.7
0.591
0.09
0.03
2.25
2.5
1 1⁄8
1.125
1.149
1.098
1 11⁄16
1.688
1.631
1.949
1.859
3⁄4
0.78
0.658
0.09
0.03
2.5
2.75
1 1⁄4
1.25
1.277
1.223
1 7⁄8
1.875
1.812
2.165
2.066
27⁄32
0.876
0.749
0.09
0.03
2.75
3
1 3⁄8
1.375
1.404
1.345
2 1⁄16
2.062
1.994
2.382
2.273
29⁄32
0.94
0.81
0.09
0.03
3
3.25
1 1⁄2
1.5
1.531
1.47
2 1⁄4
2.25
2.175
2.598
2.48
1
1.036
0.902
0.09
0.03
3.25
3.5
1 5⁄8
1.625
1.658
1.591
2 7⁄16
2.438
2.356
2.815
2.616
1 3⁄32
1.116
0.978
0.09
0.03
3.5
3.75
1 3⁄4
1.75
1.785
1.716
2 5⁄8
2.625
2.538
3.031
2.893
1 5⁄32
1.196
1.054
0.12
0.04
3.75
4
1 7⁄8
1.875
1.912
1.839
2 13⁄16
2.812
2.719
3.248
3.099
1 1⁄4
1.276
1.13
0.12
0.04
4
4.25
2
2
2.039
1.964
3
3
2.9
3.464
3.306
1 11⁄32
1.388
1.175
0.12
0.04
4.25
4.5
2 1⁄4
2.25
2.305
2.214
3 3⁄8
3.375
3.262
3.897
3.719
1 1⁄2
1.548
1.327
0.19
0.06
4.75
5
2 1⁄2
2.5
2.559
2.461
3 3⁄4
3.75
3.625
4.33
4.133
1 21⁄32
1.708
1.479
0.19
0.06
5.25
5.5
2 3⁄4
2.75
2.827
2.711
4 1⁄8
4.125
3.988
4.763
4.546
1 13⁄16
1.869
1.632
0.19
0.06
5.75
6
3
3
3.081
2.961
4 1⁄2
4.5
4.35
5.196
4.959
2
2.06
1.815
0.19
0.06
6.25
6.5
3 1⁄4
3.25
3.335
3.21
4 7⁄8
4.875
4.712
5.629
5.372
2 3⁄16
2.251
1.936
0.19
0.06
6.75
7
3 1⁄2
3.5
3.589
3.461
5 1⁄4
5.25
5.075
6.062
5.786
2 5⁄16
2.38
2.057
0.19
0.06
7.25
7.5
3 3⁄4
3.75
3.858
3.726
5 5⁄8
5.625
5.437
6.495
6.198
2 1⁄2
2.572
2.241
0.19
0.06
7.75
8
4
4
4.111
3.975
6
6
5.8
6.928
6.612
2 11⁄16
2.764
2.424
0.19
0.06
8.25
8.5
PTFE Coated Stud Bolts Dimensions Chart :
Nominal Size
Diameter, D
inch
Tap End Full
Thread Length,
BM
Umax = 2P
Minimum Nut End
Full Thread Length,
Bmin
Nominal
Min.
Max.
UNC & NC-5
Thread
UNF Thread
8UN Thread
L ≤ 10
10

L > 16
1/4
0.375
0.350
0.400
0.100
0.071
...
0.750
1.000
1.500
5/16
0.469
0.440
0.498
0.111
0.083
--
0.875
1.125
1.625
3/8
0.563
0.532
0.594
0.125
0.083
--
1.000
1.250
1.750
7/16
0.656
0.620
0.692
0.143
0.100
--
1.125
1.375
1.875
1/2
0.750
0.708
0.792
0.154
0.100
--
1.250
1.500
2.000
9/16
0.844
0.802
0.896
0.167
0.111
--
1.375
1.625
2.125
5/8
0.938
0.892
0.983
0.182
0.111
--
1.500
1.750
2.250
3/4
1.1.25
1.075
1.175
0.200
0.125
--
1.750
2.000
2.500
7/8
1.313
1.258
1.368
0.222
0.143
--
2.000
2.250
2.750
1
1.500
1.438
1.562
0.250
0.167
--
2.250
2.500
3.000
1 1/8
1.688
1.625
1.750
0.286
0.167
0.250
2.500
2.750
3.250
1 1/4
1.875
1.813
1.938
0.286
0.167
0.250
2.750
3.000
3.500
1 3/8
2.063
2.000
2.125
0.333
0.167
0.250
3.000
3.250
3.750
1 1/2
2.250
2.188
2.313
0.333
0.167
0.250
3.250
3.500
4.000
1 5/8
2.438
2.375
2.500
--
--
0.250
3.500
3.750
4.250
1 3/4
2.625
2.563
2.688
0.400
--
0.250
3.750
4.000
4.500
1 7/8
2.813
2.750
2.875
--
--
0.250
4.000
4.250
4.750
2
3.000
2.925
3.075
0.444
--
0.250
4.250
4.500
5.000
2 1/4
3.375
3.300
3.450
0.444
--
0.250
4.750
5.000
5.500
2 1/2
3.750
3.675
3.825
0.500
--
0.250
5.250
5.500
6.000
2 3/4
4.125
4.050
4.200
0.500
--
0.250
5.750
6.000
6.500
3
4.500
4.425
4.575
0.500
--
0.250
--
6.500
7.000
3 1/4
4.875
4.775
4.975
0.500
--
0.250
--
7.000
7.500
3 1/2
5.250
5.150
5.350
0.500
--
0.250
--
7.500
8.000
3 3/4
5.625
5.525
5.725
0.500
--
0.250
--
8.000
8.500
4
6.000
5.900
6.100
0.500
--
0.250
--
8.500
9.000
PTFE Coated Nuts Dimensions :

Nominal
Size

inch
Basic Major
Diameter of
Thread
Width Across Flats,
F
Width Across
Corners,
G
Thickness Heavy
Hex Nuts,
H
Thickness Heavy
Hex Jam Nuts,
H1
Maximum Runout of
Bearing Surface to
Thread
Axis, FIM
Heavy HEX NUTS
Heavy Hex
Jam Nuts
Specified Proof load
Basic
inch
Min.
Max
Min.
Max
Basic
inch
Min.
Max
Basic
inch
Min.
Max
Up to
150,000 psi
150,000 psi
and Greater
All Strength
Levels
1/4
0.2500
1/2
0.488
0.500
0.556
0.577
15/64
0.218
0.250
11/64
0.156
0.188
0.017
0.011
0.017
5/16
0.3125
9/16
0.546
0.562
0.622
0.650
19/64
0.280
0.314
13/64
0.186
0.220
0.020
0.012
0.020
3/8
0.3750
11/16
0.669
0.688
0.763
0.794
23/64
0.341
0.377
15/64
0.216
0.252
0.021
0.014
0.021
7/16
0.4375
3/4
0.728
0.750
0.830
0.866
27/64
0.403
0.441
17/64
0.247
0.285
0.022
0.015
0.022
1/2
0.5000
7/8
0.850
0.875
0.969
1.010
31/64
0.464
0.504
19/64
0.277
0.317
0.023
0.016
0.023
9/16
0.5625
15/16
0.909
0.938
1.037
1.083
35/64
0.526
0.568
21/64
0.307
0.349
0.024
0.017
0.024
5/8
0.6250
1 1/16
1.031
1.062
1.175
1.227
39/64
0.587
0.631
23/64
0.337
0.381
0.025
0.018
0.025
3/4
0.7500
1 1/4
1.212
1.250
1.382
1.443
47/64
0.710
0.758
27/64
0.398
0.446
0.027
0.020
0.027
7/8
0.8750
1 7/16
1.394
1.438
1.589
1.660
55/64
0.833
0.885
31/64
0.458
0.510
0.029
0.022
0.029
1
1.0000
1 5/8
1.575
1.625
1.796
1.876
63/64
0.956
1.012
35/64
0.519
0.575
0.031
0.024
0.031
1 1/8
1.1250
1 13/16
1.756
1.812
2.002
2.093
1 7/64
1.079
1.139
39/64
0.579
0.639
0.033
0.027
0.033
1 1/4
1.2500
2
1.938
2.000
2.209
2.309
1 7/32
1.187
1.251
23/32
0.687
0.751
0.035
0.030
0.035
1 3/8
1.3750
2 3/16
2.119
2.188
2.416
2.526
1 11/32
1.310
1.378
25/32
0.747
0.815
0.038
0.033
0.038
1 1/2
1.5000
2 3/8
2.300
2.375
2.622
2.742
1 15/32
1.433
1.505
27/32
0.808
0.880
0.041
0.036
0.041
1 5/8
1.6250
2 9/16
2.481
2.562
2.828
2.959
1 19/32
1.556
1.632
29/32
0.868
0.944
0.044
0.038
0.044
1 3/4
1.7500
2 3/4
2.662
2.750
3.035
3.175
1 23/32
1.679
1.759
31/32
0.929
1.009
0.048
0.041
0.048
1 7/8
1.8750
2 15/16
2.844
2.938
3.242
3.392
1 27/32
1.802
1.886
1 1/32
0.989
1.073
0.051
0.044
0.051
2
2.0000
3 1/8
3.025
3.125
3.449
3.608
1 31/32
1.925
2.013
1 3/32
1.050
1.138
0.055
0.047
0.055
2 1/4
2.2500
3 1/2
3.388
3.500
3.862
4.041
2 13/64
2.155
2.251
1 13/64
1.155
1.251
0.061
0.052
0.061
2 1/2
2.5000
3 7/8
3.750
3.875
4.275
4.474
2 29/64
2.401
2.505
1 29/64
1.401
1.505
0.068
0.058
0.068
2 3/4
2.7500
4 1/4
4.112
4.250
4.688
4.907
2 45/64
2.647
2.759
1 37/64
1.522
1.634
0.074
0.064
0.074
3
3.0000
4 5/8
4.475
4.625
5.102
5.340
2 61/64
2.893
3.013
1 45/64
1.643
1.763
0.081
0.070
0.081
3 1/4
3.2500
5
4.838
5.000
5.515
5.774
3 3/16
3.124
3.252
1 13/16
1.748
1.876
0.087
0.075
0.087
3 1/2
3.5000
5 3/8
5.200
5.375
5.928
6.207
3 7/16
3.370
3.506
1 15/16
1.870
2.006
0.094
0.081
0.094
3 3/4
3.7500
5 3/4
5.562
5.750
6.341
6.640
3 11/16
3.616
3.760
2 1/16
1.990
2.134
0.100
0.087
0.100
4
4.0000
6 1/8
5.925
6.125
6.755
7.073
3 15/16
3.862
4.014
2 3/16
2.112
2.264
0.107
0.093
0.107
PTFE Coated Washer Dimensions Chart :

Nominal Size
T
Clipped Width E, Min.
I.D.
O.D.
Standard
Extra Thick
[Note (1)]
Max.
Min.
Max.
Min.
Max.
Min.
Max.
Min.
[Note (2)]
12
14.4
14
27
25.7
4.6
3.1
10
8
10.5
16
18.4
18
34
32.4
4.6
3.1
10
8
14
20
22.5
22
42
40.4
4.6
3.1
10
8
17.5
22
24.5
24
44
42.4
4.6
3.4
10
8
19.2
24
26.5
26
50
48.4
4.6
3.4
10
8
21
27
30.5
30
56
S4.1
4.6
3.4
10
8
23.6
30
33.6
33
60
58.1
4.6
3.4
10
8
26.2
36
39.6
39
72
70.1
4.6
3.4
10
8
31.S
42
45.6
45
84
81.8
7.2
4.6
10
8
36.7
48
52.7
52
95
92.8
7.2
4.6
10
8
42
56
62.7
62
107
104.8
8.7
6.1
10
8
49
64
70.7
70
118
115.8
8.7
6.1
10
8
56
72
78.7
78
130
127.5
8.7
6.1
10
8
63
80
86.9
86
142
139.5
8.7
6.1
10
8
70
90
96.9
96
159
156.5
8.7
6.1
10
8
78.7
100
107.9
107
176
173.5
8.7
6.1
10
8
87.5
Torque Chart
PTFE Coated Fasteners
| | | | | | | | | | | |
| --- | --- | --- | --- | --- | --- | --- | --- | --- | --- | --- |
| Diameter (D) | Body Diameter (D) |   | Across the Flats (F) |   | Across the Corners © |   | Head Height (H) |   | Thread Lengths (T) |   |
|   | MAX | MIN | MAX | MIN | MAX | MIN | MAX | MIN | <6" | >6" |
| 1/2 | 0.515 | 0.482 | 0.875 | 0.85 | 1.01 | 0.969 | 0.364 | 0.302 | 1.25 | 1.5 |
| 5/8 | 0.642 | 0.605 | 1.062 | 1.031 | 1.227 | 1.175 | 0.444 | 0.378 | 1.5 | 1.75 |
| 3/4 | 0.768 | 0.729 | 1.25 | 1.212 | 1.443 | 1.383 | 0.524 | 0.455 | 1.75 | 2 |
| 7/8 | 0.895 | 0.852 | 1.438 | 1.394 | 1.66 | 1.589 | 0.604 | 0.531 | 2 | 2.25 |
| 1 | 1.022 | 0.976 | 1.625 | 1.575 | 1.876 | 1.796 | 0.7 | 0.591 | 2.25 | 2.5 |
| 1 1/8 | 1.149 | 1.098 | 1.812 | 1.756 | 2.093 | 2.002 | 0.78 | 0.658 | 2.5 | 2.75 |
| 1 1/4 | 1.277 | 1.223 | 2 | 1.938 | 2.309 | 2.209 | 0.876 | 0.749 | 2.75 | 3 |
| 1 3/8 | 1.404 | 1.345 | 2.188 | 2.119 | 2.526 | 2.416 | 0.94 | 0.81 | 3 | 3.25 |
| 1 1/2 | 1.531 | 1.47 | 2.375 | 2.3 | 2.742 | 2.622 | 1.036 | 0.902 | 3.25 | 3.5 |
| 1 3/4 | 1.785 | 1.716 | 2.75 | 2.662 | 3.175 | 3.035 | 1.196 | 1.054 | 3.75 | 4 |
| 2 | 2.039 | 1.964 | 3.125 | 3.025 | 3.608 | 3.449 | 1.388 | 1.175 | 4.25 | 4.5 |
| 2 1/4 | 2.305 | 2.214 | 3.5 | 3.388 | 4.041 | 3.862 | 1.548 | 1.327 | 4.75 | 5 |
| 2 1/2 | 2.559 | 2.461 | 3.875 | 3.75 | 4.474 | 4.275 | 1.708 | 1.479 | 5.25 | 5.5 |
| 2 3/4 | 2.827 | 2.711 | 4.25 | 4.112 | 4.907 | 4.688 | 1.869 | 1.632 | 5.75 | 6 |
| 3 | 3.081 | 2.961 | 4.625 | 4.475 | 5.34 | 5.102 | 2.06 | 1.815 | 6.25 | 6.5 |
Different Types Of
PTFE Coated Fasteners
Different Types Of Fasteners
Application of
PTFE Coated Fasteners
Testing of
PTFE Coated Fasteners
Packing of
PTFE Coated Fasteners
Destination Of
PTFE Coated Fasteners