UNS N08825 U Bolt, ASME SB425 Incoloy 825 Hex Head Bolt, 825 Incoloy Flange Head Bolt, Incoloy 825 Hex Bolt, Alloy 825 Allen Bolt, DIN 2.4858 Eye Bolt, WNRF 2.4858 Stud Bolt, ASTM B425 Incoloy 825 Anchor Bolt.
The DIN 2.4858  Bolts can be fastened to the fitting since one end has a loop and a thread. These bolts are flawlessly made and have a long lifespan. They are utilised to join significant components. The six-sided head of the Nickel Alloy 825 Hex Bolt is a design feature. At high temperatures and pressures, these bolts do not readily distort or dissolve. They may be temporarily or permanently clamped. The majority of Inconel 825 bolts exhibit tolerance to acid-induced pitting or cracking. Both mechanically and manually, installing these nuts is simple. They serve as the fastener's packing and a bolster of support.Through consistent work and high standards, Incoloy 825 Bolts. We offer our customers the highest-quality goods in accordance with the criteria set by the industry and by international law. We are devoted to meeting the needs for perfect grade industrial bolts and are ISO-certified.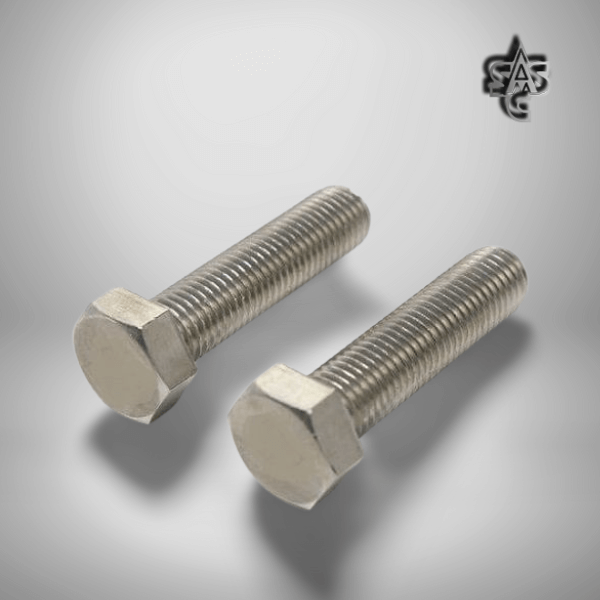 When combined, the Inconel 825 Bolts and Nuts assist create a sturdy fastening. These compounds have a melting point of 1413 degrees Celsius and a density of 8.47g/cm3. They are adequate in a variety of situations when tension is present. The threaded rod made of alloy 825 has threads on both ends. This guarantees the durability and toughness of the fastening. All of our items may be specially made to meet your needs. Contact us for further any information or If you want to know more about our product details.
Specification Of
Incoloy 825 Bolt
| | |
| --- | --- |
| Specifications | ASTM B564, ASME SB564 and DIN, ISO ,JIS ,GB, IS, BS, ASTM and all International Standards |
| Size | M3 - M100 | 3/6″ - 4″ | Custom Sizes |
| Length | 3 mm - 200 mm | Custom Sizes |
| Dimensions | DIN 931, 933, 934, 7991, 976, 125, ASME B18.2.1, B18.3 |
| Threads Configuration | ASME B1.1 2A/3A – 2B/3B Inch Unified Threads and B1.13M 6h-6G Metric Coarse Threads and UNF, BSW, BSF, METRIC, UNC, or as required |
| Form | Hex, Threading, Square, Round as per Gauge Etc. |
| Head | Hex, Square, Round, Hex flange, Flat, T-head & Triangular etc. |
| Neck type | Hex, Square, Triangular, Oval & Knurled etc. |
| Manufacturing Process | Passivation /plain, Wire Drawing, Cold Heading, Insert tapping, Heat Treatment, Surface Plating, Inspection, Packing. |
| Surface Coating | Black Oxide, Cadmium, Galvanized, Teflon, Xylan, Zinc, Others Upon Request |
| Packing | IN BULK: carton, pallet, Small Boxes or customer request |
| Test Certificate | As per EN 10204 / 3.1 Manufacturer Test Certificate, PED 97/23/EC Certified, Merkblatt AD 2000 W2 Certified |
| Certification | Dual Certified As per ASTM & ASME Codes |
| Delivery time | Regular product : 7-15 days, Custom product : 2-4 weeks |
Equivalent Grades
Incoloy 825 Bolt
| | | | | | | | | |
| --- | --- | --- | --- | --- | --- | --- | --- | --- |
| STANDARD | WERKSTOFF NR. | UNS | JIS | BS | GOST | AFNOR | EN | OR |
| Incoloy 825 | 2.4858 | N08825 | NCF 825 | NA 16 | ЭП703 | NFE30C20DUM | NiCr21Mo | XH38BT |
Chemical Composition
Incoloy 825 Bolt
| | | | | | | | | | | |
| --- | --- | --- | --- | --- | --- | --- | --- | --- | --- | --- |
| Grade | C | Mn | Si | S | Cu | Fe | Ni | Cr | Al | Ti |
| 825 | 0.05 max | 1.00 max | 0.5 max | 0.03 max | 1.50 – 3.00 | 22.00 min | 38.00 – 46.00 | 19.50 – 23.50 | 0.02 max | 0.06 – 1.20 |
Mechanical Properties
Incoloy 825 Bolt
| | | | | | |
| --- | --- | --- | --- | --- | --- |
| Element | Density | Melting Point | Tensile Strength | Yield Strength (0.2%Offset) | Elongation |
| 825 | 8.14 g/cm3 | 1400 °C (2550 °F) | Psi – 80,000 , MPa – 550 | Psi – 32,000 , MPa – 220 | 30 % |
Dimensions Of
Incoloy 825 Bolt
High Nickel Alloys Bolts Dimensions Chart :

Nominal Size
or Basic
Product
Diameter


Full-Size Body
Diameter,
E
Width Across Flats,
F
Width Across
Corners, G
Head Height, H Basic
Radius of
Fillet, R
Nominal Thread
Length for Bolt
Lengths,
LT
inch
mm
Max
Min
Basic
inch
Max
Min
Max
Min
Basic
inch
Max
Min
Max
Min
6 in. and
Shoter
Over
6 in.
1⁄4
0.25
0.26
0.237
7⁄16
0.438
0.425
0.505
0.484
11⁄64
0.188
0.15
0.03
0.01
0.75
1
5⁄16
0.3125
0.324
0.298
1⁄2
0.5
0.484
0.577
0.552
7⁄32
0.235
0.195
0.03
0.01
0.875
1.125
3⁄8
0.375
0.388
0.36
9⁄16
0.562
0.544
0.65
0.62
1⁄4
0.268
0.226
0.03
0.01
1
1.25
7⁄16
0.4375
0.452
0.421
5⁄8
0.625
0.603
0.722
0.687
19⁄64
0.316
0.272
0.03
0.01
1.125
1.375
1⁄2
0.5
0.515
0.482
3⁄4
0.75
0.725
0.866
0.826
11⁄32
0.364
0.302
0.03
0.01
1.25
1.5
5⁄8
0.625
0.642
0.605
15⁄16
0.938
0.906
1.083
1.033
27⁄64
0.444
0.378
0.06
0.02
1.5
1.75
3⁄4
0.75
0.768
0.729
11⁄8
1.125
1.088
1.299
1.24
1⁄2
0.524
0.455
0.06
0.02
1.75
2
7⁄8
0.875
0.895
0.852
1 5⁄16
1.312
1.269
1.516
1.447
37⁄64
0.604
0.531
0.06
0.02
2
2.25
1
1
1.022
0.976
1 1⁄2
1.5
1.45
1.732
1.653
43⁄64
0.7
0.591
0.09
0.03
2.25
2.5
1 1⁄8
1.125
1.149
1.098
1 11⁄16
1.688
1.631
1.949
1.859
3⁄4
0.78
0.658
0.09
0.03
2.5
2.75
1 1⁄4
1.25
1.277
1.223
1 7⁄8
1.875
1.812
2.165
2.066
27⁄32
0.876
0.749
0.09
0.03
2.75
3
1 3⁄8
1.375
1.404
1.345
2 1⁄16
2.062
1.994
2.382
2.273
29⁄32
0.94
0.81
0.09
0.03
3
3.25
1 1⁄2
1.5
1.531
1.47
2 1⁄4
2.25
2.175
2.598
2.48
1
1.036
0.902
0.09
0.03
3.25
3.5
1 5⁄8
1.625
1.658
1.591
2 7⁄16
2.438
2.356
2.815
2.616
1 3⁄32
1.116
0.978
0.09
0.03
3.5
3.75
1 3⁄4
1.75
1.785
1.716
2 5⁄8
2.625
2.538
3.031
2.893
1 5⁄32
1.196
1.054
0.12
0.04
3.75
4
1 7⁄8
1.875
1.912
1.839
2 13⁄16
2.812
2.719
3.248
3.099
1 1⁄4
1.276
1.13
0.12
0.04
4
4.25
2
2
2.039
1.964
3
3
2.9
3.464
3.306
1 11⁄32
1.388
1.175
0.12
0.04
4.25
4.5
2 1⁄4
2.25
2.305
2.214
3 3⁄8
3.375
3.262
3.897
3.719
1 1⁄2
1.548
1.327
0.19
0.06
4.75
5
2 1⁄2
2.5
2.559
2.461
3 3⁄4
3.75
3.625
4.33
4.133
1 21⁄32
1.708
1.479
0.19
0.06
5.25
5.5
2 3⁄4
2.75
2.827
2.711
4 1⁄8
4.125
3.988
4.763
4.546
1 13⁄16
1.869
1.632
0.19
0.06
5.75
6
3
3
3.081
2.961
4 1⁄2
4.5
4.35
5.196
4.959
2
2.06
1.815
0.19
0.06
6.25
6.5
3 1⁄4
3.25
3.335
3.21
4 7⁄8
4.875
4.712
5.629
5.372
2 3⁄16
2.251
1.936
0.19
0.06
6.75
7
3 1⁄2
3.5
3.589
3.461
5 1⁄4
5.25
5.075
6.062
5.786
2 5⁄16
2.38
2.057
0.19
0.06
7.25
7.5
3 3⁄4
3.75
3.858
3.726
5 5⁄8
5.625
5.437
6.495
6.198
2 1⁄2
2.572
2.241
0.19
0.06
7.75
8
4
4
4.111
3.975
6
6
5.8
6.928
6.612
2 11⁄16
2.764
2.424
0.19
0.06
8.25
8.5
Different Types Of
Incoloy 825 Bolt
Different Types Of Bolts
Application of
Incoloy 825 Bolt
Testing of
Incoloy 825 Bolt
Packing of
Incoloy 825 Bolt
Destination Of
Incoloy 825 Bolt
Incoloy 825 Stud Bolt Stockist in Coimbatore, 825 Incoloy Flange Head Bolt Supplier in Chennai, Alloy 825 Allen Bolt Manufacturer in Jamnagar, ASME SB425 Incoloy 825 Hex Head Bolt Manufacturer in Ahmedabad, DIN 2.4858 Hex Bolt Exporter in Pimpri-Chinchwad, Werkstoff Nr. 2.4858 Anchor Bolt Exporter in Bangalore, UNS N08825 U Bolt Stockist in Pune
Alloy 825 Hex Bolt Manufacturer in Nigeria, ASTM B425 Incoloy 825 Allen Bolt Exporter in Argentina, Werkstoff Nr. 2.4858 Allen Bolt Manufacturer in Singapore, WNRF 2.4858 Stud Bolt Exporter in Saudi Arabia, 825 Inconel U Bolt Stockist in Indonesia, ASTM B425 Incoloy 825 Eye Bolt Supplier in Malaysia, UNS N08825 Allen Bolt Stockist in Dubai, Incoloy 825 U Bolt Stockist in South Africa
UNS N08825 Stud Bolt Weight Chart, Incoloy 825 Hex Head Bolt Catalogue, Alloy 825 Allen Bolt Price Per Kg, ASME SB425 Incoloy 825 Flange Head Bolt Price List, WNRF 2.4858 Stud Bolt Specification, 825 Incoloy Eye Bolt Weight Calculator, DIN 2.4858 Anchor Bolt at Factory Price, ASTM B425 Incoloy 825 U Bolt Grade Chart, 825 Inconel Eye Bolt at Factory Price